There is a Slight Risk for Severe Weather Today in Central Illinois. Click
here
for forecast
There is a Slight Risk for Severe Weather Tomorrow in Central Illinois. Click
here
for forecast
There is a Chance for Thunderstorms Wednesday in Central Illinois. Click
here
for forecast
Springfield Area: Temp: 67°F Dew: 62°F Hum: 85% Wind: Calm Gusts: 14 mph
Local Forecast Today: Becoming partly sunny. Chance of Showers and Thunderstorms in the morning... Then Showers and Thunderstorms likely in the afternoon. Highs in the upper 80s. South winds 15 to 20 mph with gusts to 25 mph. Chance of precipitation 60%.

Last Updated: 4:02 AM on 05/20/2013
Severe Weather Forecast
There's a Slight Chance for Severe Weather in Central Illinois Tomorrow.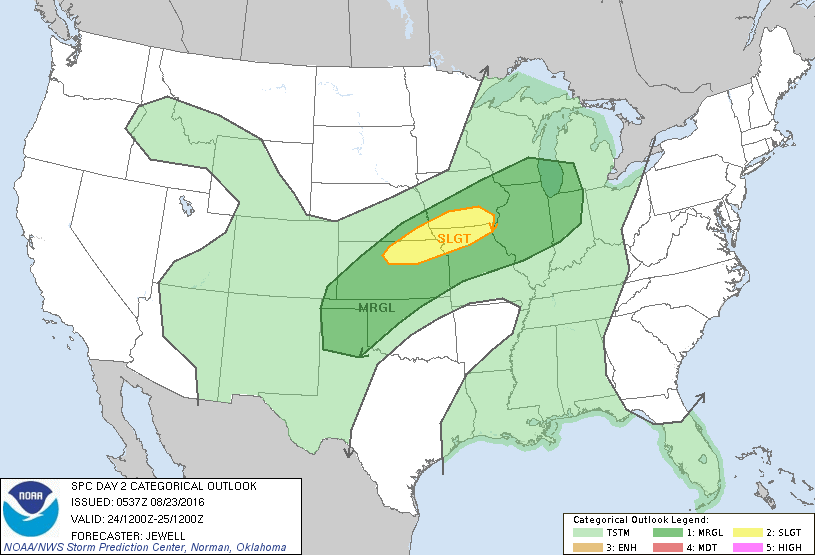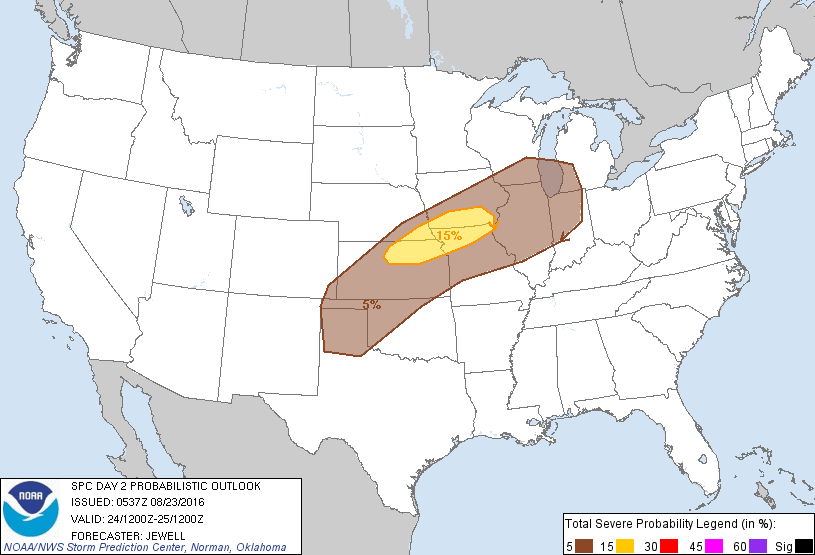 ...THERE IS A SLGT RISK OF SVR TSTMS FROM THE GREAT LAKES REGION
   SWWD TO THE RIO GRANDE VALLEY OF S TX...
   
   ...SYNOPSIS...
   AN UPPER LOW PROGGED TO RESIDE OVER THE ERN SD VICINITY AT THE START
   OF THE PERIOD IS FORECAST TO WEAKEN WITH TIME...AS IT -- AND THE
   ASSOCIATED TROUGH EXTENDING SWD INTO THE SRN PLAINS -- SHIFTS EWD
   THROUGH THE PERIOD.  EWD PROGRESS OF THE SYSTEM WILL BE AIDED BY AN
   EMBEDDED SHORT-WAVE TROUGH MOVING EWD ACROSS THE SRN PLAINS. 
   ELSEWHERE...AN UPPER LOW IS FORECAST TO DIG SEWD INTO THE PAC
   NW...AND A VERY WEAK LOW SHOULD LINGER ACROSS FL.
   
   AT THE SURFACE...A LOW INITIALLY INVOF SWRN MN IS FORECAST TO MOVE
   SLOWLY EWD IN CONJUNCTION WITH THE UPPER SYSTEM...REACHING THE WRN
   UPPER GREAT LAKES LATE.  THE TRAILING COLD FRONT DRAPED INITIALLY
   FROM MN/IA SWWD INTO CENTRAL TX WILL MOVE SLOWLY EWD WITH
   TIME...WEAKENING AS IT PROGRESSES ACROSS THE UPPER MIDWEST/MO
   REGION.  THE SRN FRINGE OF THE FRONT SHOULD LINGER ACROSS TX THROUGH
   THE AFTERNOON...BEFORE WASHING OUT COMPLETELY OVERNIGHT.
   
   ...THE GREAT LAKES REGION SWWD ACROSS CENTRAL TX...
   SCATTERED/ONGOING CONVECTION IS FORECAST ACROSS A LARGE PORTION OF
   THE RISK AREA TO START THE PERIOD...CONTINUING INTO THE AFTERNOON
   HOURS.  THREAT FOR HAIL/DAMAGING WINDS MAY EXIST LOCALLY WITH THE
   ONGOING STORMS...BUT THE GREATER EFFECT OF THIS CONVECTION WILL
   LIKELY BE TO HINDER HEATING/DESTABILIZATION ACROSS MUCH OF THE
   OUTLOOK AREA -- PARTICULARLY FROM PARTS OF AR NEWD.  WHILE SOME
   INTENSIFICATION OF THE CONVECTION WILL OCCUR ACROSS THIS PART OF THE
   AREA THROUGH THE DIURNAL PEAK HEATING PERIOD...THE LACK OF GREATER
   DESTABILIZATION SHOULD TEMPER THE OVERALL THREAT ACROSS MUCH OF THIS
   AREA.
   
   FARTHER SW ACROSS THE ARKLATEX REGION INTO CENTRAL TX/THE HILL
   COUNTRY AREA...STRONG DESTABILIZATION IS EXPECTED.  WITH 40 TO 50 KT
   WSWLY MID-LEVEL FLOW SPREADING ACROSS TX AS THE MID-LEVEL SHORT-WAVE
   TROUGH SHIFTS EWD...STRENGTHENING SHEAR WILL ALLOW DEVELOPING STORMS
   ALONG THE WEAKENING FRONT TO RAPIDLY STRENGTHEN/ACQUIRE ROTATION. 
   WITH LOW-LEVEL FLOW FORECAST TO REMAIN SOMEWHAT WEAK...ONLY ISOLATED
   TORNADO POTENTIAL IS EXPECTED -- MAINLY DURING THE EVENING AS SOME
   INCREASE IN LOW-LEVEL FLOW OCCURS.  INSTEAD...THE MAIN SEVERE THREAT
   WILL LIKELY BE VERY LARGE HAIL...WHILE WIND THREAT INCREASES WITH
   TIME AS STORMS LIKELY CONGEAL DURING THE EVENING HOURS.
   
   SOME THREAT MAY EXTEND AS FAR NWWD AS WI -- JUST AHEAD OF THE UPPER
   LOW WHERE LOW-TOPPED STORMS AND ISOLATED SEVERE THREAT MAY
   EVOLVE...AND AS FAR NE AS THE LOWER GREAT LAKES REGION...WHERE A
   BAND OF LATE AFTERNOON STORMS AND ASSOCIATED THREAT FOR ISOLATED
   WIND DAMAGE COULD OCCUR.